Embassy Theatre | Fort Wayne, Indiana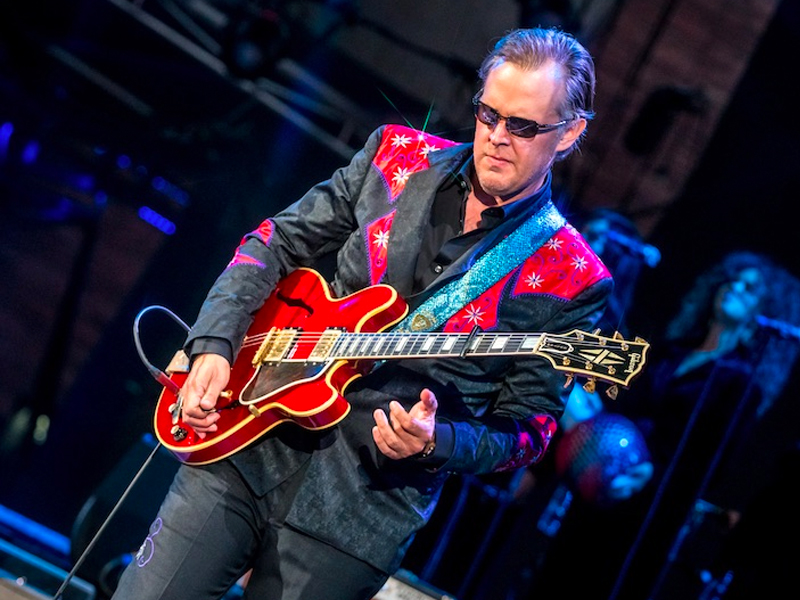 Do you want to hear live the hits "The Heart That Never Waits," "I'll Play The Blues For You," "Mountain Time," and many other career-defining hits of the iconic Joe Bonamassa? As the modern-day torchbearer for blues rock, Bonamassa will bring nothing but his best performances this Friday, November 17, at the Embassy Theatre. Join hundreds of other blues rock fans as you immerse yourself in this highly anticipated event in the iconic Fort Wayne, Indiana, venue. Known for his electrifying concert performances, the blues-rock sensation will bring the house down with his powerful vocals and top-notch guitar-slinging skills. If you are a blues lover and haven't seen Bonamassa live, you are missing a lot. So this is your chance to witness the guitar virtuoso do his magic on stage. Get your tickets today and prepare to feel the raw emotion and power as he belts out his hits on a night you will never forget. Click the "Get Tickets" link to reserve tickets for you and your concert buddies.
Joe Bonamassa held the helm in maintaining the popularity of blues-rock in the modern music scene. Growing up exposed to old-school blues rock, he was inspired by artists like Eric Clapton, Jeff Beck, and many more. At a young age, he was discovered to have a knack for stringed instruments, primarily in guitar playing. He was considered prodigious, and he received attention during his teenage years. He finally broke out in the music scene well into the 2000s. He continues to maintain exemplary music to this day.
Joseph Leonard Bonamassa came into an age in Utica, New York. He started playing the guitar when he was four, influenced by his father, an avid blues-rock fan. Among their go-to bonding was listening to records by Eric Clapton and Jeff Beck. When he turned eleven, legendary guitarist Danny Gatton took an interest in him and taught him to play. Through Gatton's mentoring, Bonamassa's talent for the instrument was honed. By 12, he already had a band called Smokin' Joe Bonamassa, which toured around New York and Pennsylvania. He then received the opportunity to open for blues artist B.B. King's tour in 1989. Right after this, he joined the blues-rock band Bloodline, formed by the sons of multiple rock stars.
When Bonamassa became a seasoned musician, he wanted to pursue a solo career. His debut, "A New Day Yesterday," went public in 2000. He was well supported during this release, signified when he featured legendary rock singer Gregg Allman in his track "If Heartaches Were Nickels." This album was a blues success, reaching the ninth spot on the Billboard Blues chart. The four albums he released after ( "So, It's Like Tha," "Blues Deluxe," "Had to Cry Today," and "You & Me") were consistently top one on Billboard's Blues charts. "Sloe Gin" (2007) and "The Ballad of John Henry" (2009) also reached the top ten. In 2009, his dream came true when he performed at the Royal Albert Hall in London with his idol Eric Clapton.
In the following years, he released nine more studio albums, 15 more solo live albums, and many collaboration albums with bands.
On his 2023 fall tour, the blues rock prodigy will perform at the Embassy Theatre on November 17. See you there!